BM #116 Day 13 -
Here is an assembled thali with a mix of rice and roti. The uniqueness of the roti is that it is made out of pizza dough.
My initial plan was to bake them as naan but I was swamped with other stuff and ended up making them on the stove top as regular rotis.
Taste wise, I didn't find much difference. I just felt they were very soft and if you keenly observe there might be an aftertaste of yeast similar to the Naan.
Today's thali featuring the Garlic Butter Roti with Pizza Dough, Aloo Gobi, Tomato Peanut Dal, Rice, Yogurt, Semiya Kheer and a Clementine.
Ingredients -
Pizza Dough 2 cups (approximately)
Garlic butter 2 tsp
Method Of Preparation -
Pinch equal portions of the dough (I made about 12).
Roll into thin discs.
Heat a griddle. Gently place the rolled disc on the hot griddle.
After bubbles appear, flip the disc, dribble some garlic butter and cook on both sides.
Remove onto an insulated box. Repeat for the remaining dough.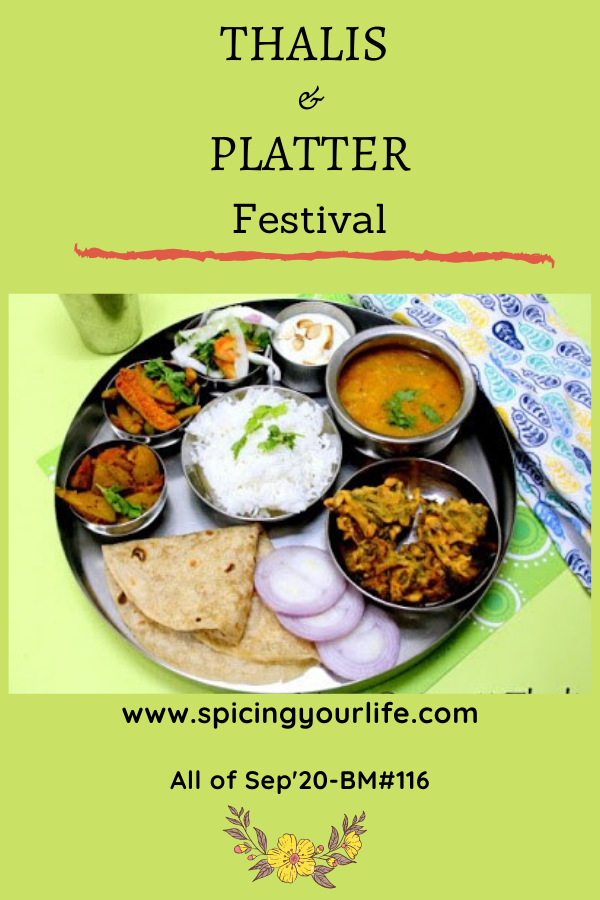 Preparation Time 30 minutes
Makes 12