BM #116 Day 10 -
Today is the 6th thali in the category of Simple everyday thalis. This is a very special thali as I have used our freshly harvested raw tomatoes to make Raw Tomato Chutney, Raw Tomato Curry With Moong, and Raw Tomato Dal. Also in the picture are Rice,
Yogurt,

Mango Fruit Salad, and

Uppu
Mirapakai (Mor Milagai).
This Mango Fruit Salad is a perfect recipe for a make ahead dessert for a party. Thanks to Sandhya for helping me with the recipe and giving me tips which helped me rest easy.
The measurement for each of the ingredients given in the recipe is just a rough guideline. Feel free to play around the quantities of each of them. It is a simple, no-nonsense recipe. I have since referred this dessert to so many of my friends and family.
We will take a break for Saturday and come back on Sunday with yet another theme for week 3.
Before we go on to the easy peasy recipe, here is a recap of all the posts in week 1 and 2.
Week
1 - Platters
Week 2 - Simple Everyday Mini Thalis
Recipe Source Sandhya
Ingredients -
Mixed Fruits 3-4 cups (I used apple, banana and grapes)
Mango Pulp about 2 cups (I used the unsweetened Mango Pulp)
Condensed Milk about 1/2 cup
Whipped Cream about a cup
Note - Freel free to adjust the ingredients as per taste. There is no rule for the proportions.
Method Of Preparation -
In a large mixing bowl, whisk together gently the mango pulp, condensed milk and whipped cream until they are combined well and they appear creamy.
Wash and chop all the fruits into bite size pieces.
Toss in the fruits and mix gently. We like to have more fruits with a light coating of the creamy mixture. So adjust accordingly.
Cover and refrigerate for a few hours before serving. It stays good for upto 3-4 days when stored properly in the refrigerator.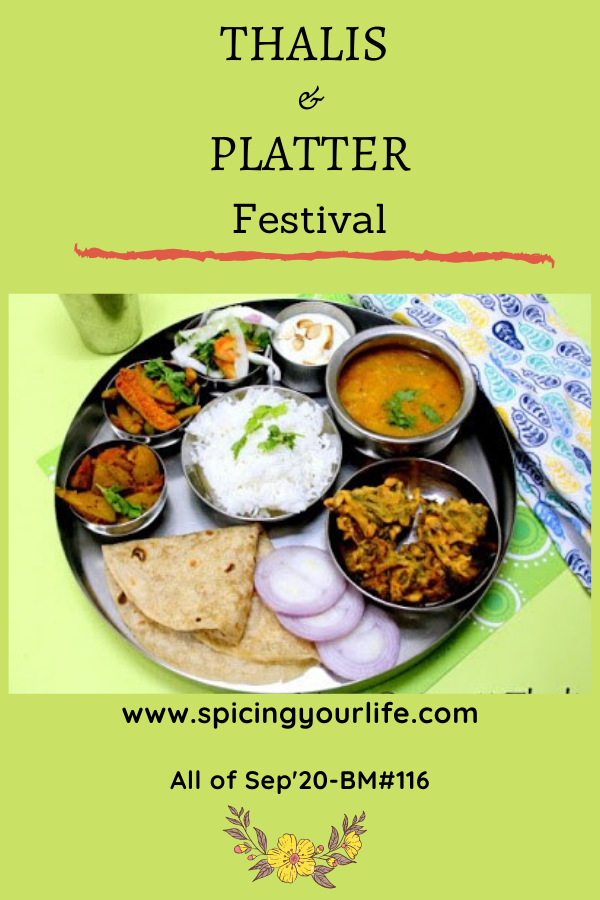 Preparation Time 15 minutes ; Resting time 1 hour +
Serves 10-15 approximately