BM #116 Day 14 -
Today's flatbread comes from the state of Maharashtra. This rustic flatbread is nutritious and filling and easy to make as well.
In the thali featuring Dhapate are Garlic Chutney, Green Chili Thecha, Onion-Tomato Koshimbir and yogurt.
The Green Chili Thecha which I made for this thali has become a frequent addition on our dining table. The Garlic Chutney is a staple too. My husband and older one can live off those two accompaniments.
Here are the previous flatbreads this week..
Flatbread Thali 3 - Garlic Butter Roti With Pizza Dough - Day 13
Recipe Source here through Shalaka
Ingredients -
Jowar Flour 2 cups
Whole Wheat Flour 1 cup + more for dusting
Besan 1/2 cup
Coriander Powder 1 tsp
Turmeric, Salt and Red Chili Powder as needed
Garlic-Green chili paste 2 tsp (or as needed)
Cumin seeds, coarsely crushed 1 tsp
Ajwain / Vaamu, coarsely crushed 1 tsp
Coriander leaves, finely chopped 3 Tbsp
Water as needed to knead the dough
Oil to shallow fry
Sesame seeds 2-3 Tbsp
Method Of Preparation -
In a mixing bowl, mix the flours and the rest of the ingredients listed above except water, oil and sesame seeds.
Gradually add water to knead the mixture to form a soft dough.
Pinch 8 equal portions of the dough each the size of a small orange. Knead each portion and roll into a smooth disc.
Dip one side of a disc in the sesame seeds and start flattening the disc on a floured surface. Typically it is patted with clean hands but I tried using the rolling pin and generously dusting with flour and it worked for me.
Heat a griddle and gently transfer the flattened disc onto the griddle, brush some oil on the it and allow both the sides to cook. Brush oil on the other side as well.
Remove onto an insulated container to keep them warm.
Continue with the rest of the dough portions.
Serve with Teekha Thecha, Lahsun ki chutney, Onion-Tomato Koshimbir and Yogurt.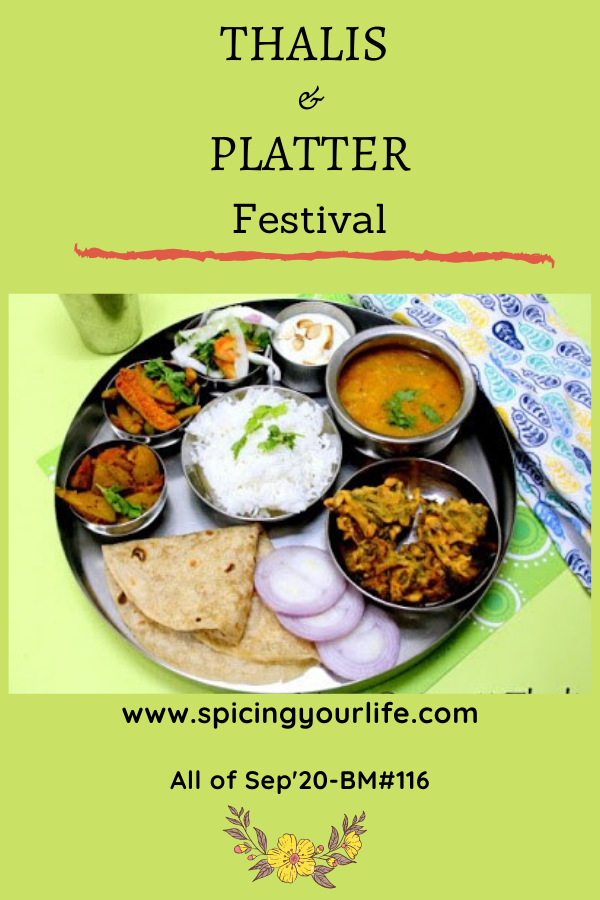 Preparation Time 30 minutes
Makes 8