BM #116 Day 19 -
After the Andhra Varalakshmi Vratham Thali, Bengali Niramish Thali, today we travel to the West and check out some of the delicacies of Gujarat.
Coming to the stuffed Okra, this version has become one of our favorites recently. This is so easy and quick to make that I rely on this recipe without any tweaks.
Until a decade ago, my only favorite dish from Gujarat was Dhokla. Only after exploring Gujarati cuisine, I came to love their other dishes and some of them are showcased here.
In the picture are the dishes with numbers corresponding to the names listed here.
1.Gujarati Kadhi
2.Khatti Meethi Dal
3.Mag - Gujarati Moong Beans
4.Beet Nu Raito
5.Doodh Pak
6.Steamed Rice
7.Dhokla
8.Methi Na Gota
9.Papad
10.Batata Tamata Nu Shaak
11.Bhinda nu Bharela Shaak
12.Roti
13.Poori
14.Khatta Chutney
15.
Green Chutney
Recipe Source
here
Ingredients -
Okra / Bhindi / Bendakaya 20 nos
Oil 1 Tbsp
Garlic, grated 2 tsp
For the Filling -
Roasted Gram Powder 1/4 cup
Sesame seed Powder 2 Tbsp
Roasted Peanut Powder 1/4 cup
Amchur Powder 1/4 tsp
Hing 2 pinches
Red Chili Powder as needed
Sugar 1 tsp (Optional)
Coriander Powder 1/2 tsp
Cumin Powder 1/2 tsp
Garam Masala 1/4 tsp
Oil 1 Tbsp
Method Of Preparation -
For the filling, mix all the ingredients listed under 'For the filling' and make a stiff dough like consistency of the filling.
Wash and pat the bhindi dry. Chop the ends of the okra and make slits keeping both the ends intact. Fill about half teaspoon of the filling into each of the bhindi slits and keep them aside.
In a wok/kadai heat oil and saute the grated garlic.
Gently add all the stuffed bhindi and toss them gently. Let the bhindi fry/cook through.
Remove from heat and serve as part of a meal.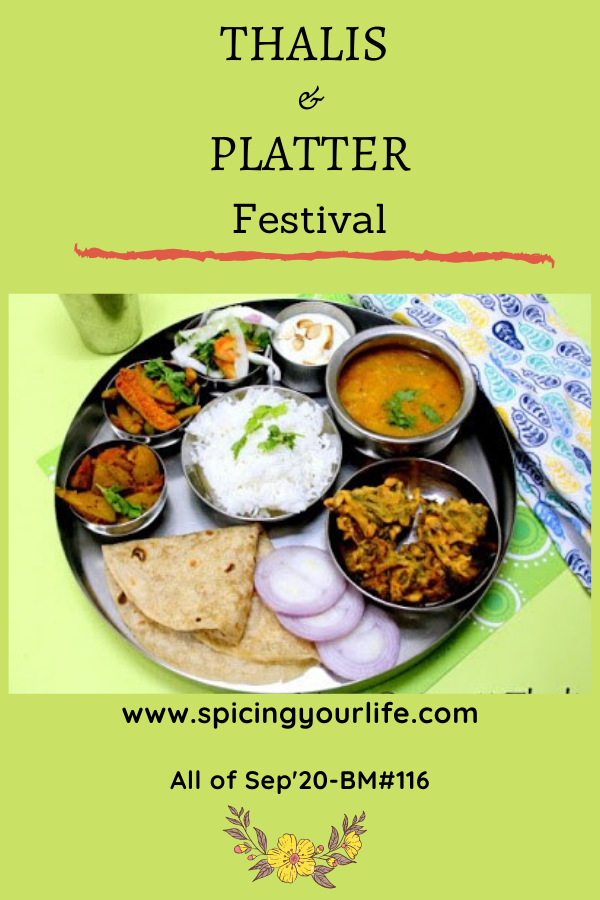 Preparation Time 25 minutes
Serves 4-5